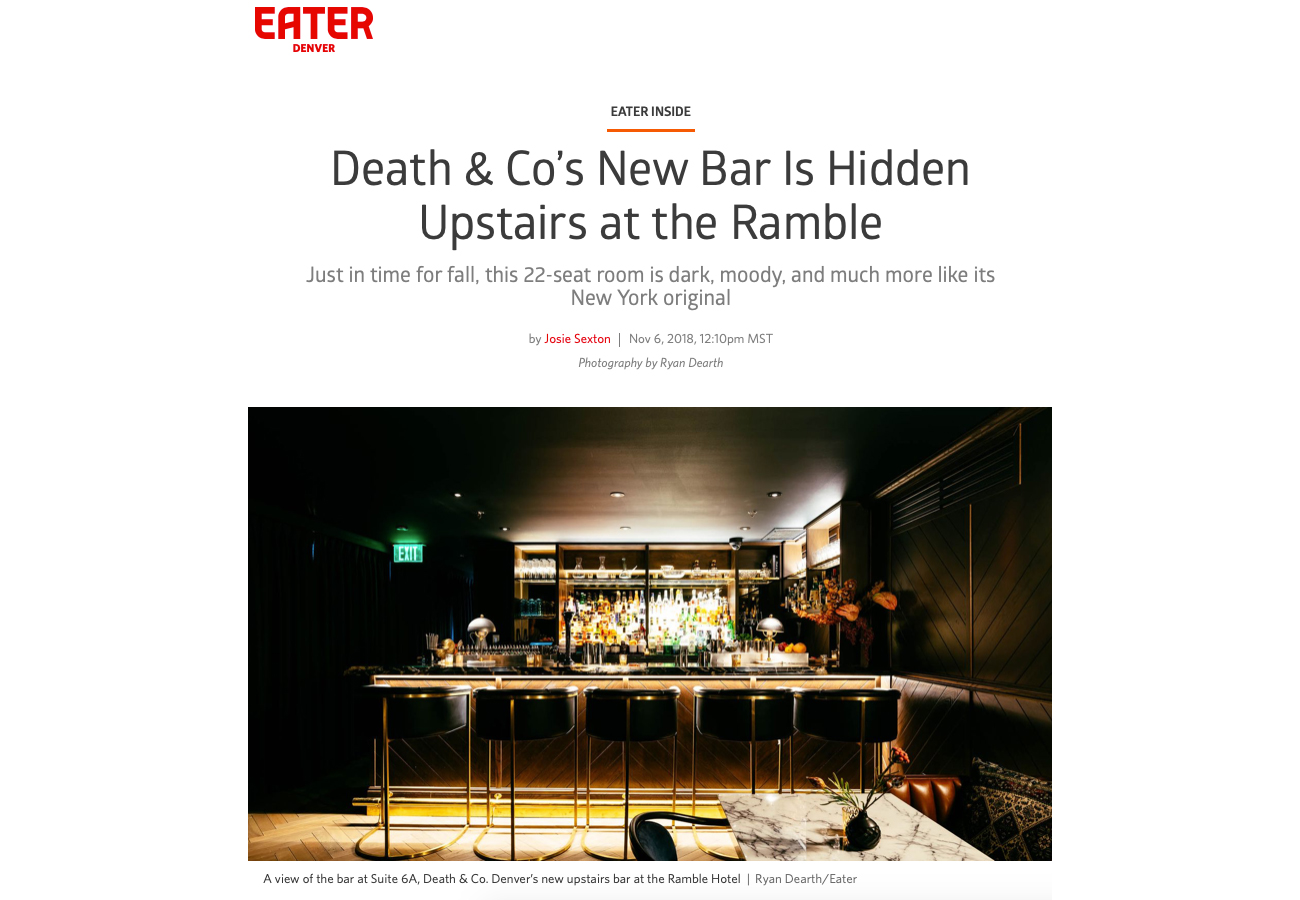 Press
Eater Denver Suite 6A is officially open!
Take a peek over at Eater 🙂
—
Death & Co's New Bar Is Hidden Upstairs at the Ramble
By Josie Sexton
Just in time for fall, this 22-seat room is dark, moody, and much more like its New York original.
If you thought Death & Co had already pulled out all the cocktail stops in Denver, think again. After six months slinging drinks for the RiNo masses in the Ramble's lobby and a summer season serving rosé magnums atop its roof, the New York-based business on Thursday opens a third and last bar at the hotel.
This time, it's a 22-seat space with dark curtains and hushed tones, weekly changing cocktail and food menus, and a vibe that's more sophisticated than the other two areas.
"This is really the last piece of the puzzle," said Death & Co beverage director Tyson Buhler of Suite 6A, which is secluded up a flight of stairs on a mezzanine level above the hotel lobby. Buhler likens the room to Death & Co's East Village original; he and his team will be pulling recipes from the New York bar program's decade-long, 2,000-drink repertoire, offering half a dozen house specialties each week and also tailoring beverages to customers' preferences.
Chef Wes Hamilton and his team are also creating weekly changing small bites — of caviar, chicken liver, dark chocolate — to provide some sustenance. And you'll need it, because Suite 6A is like a boozy time warp; Buhler says it's common for separate groups drinking at Death & Co New York on a given night to stay for hours and ultimately feel, "We're in this together."