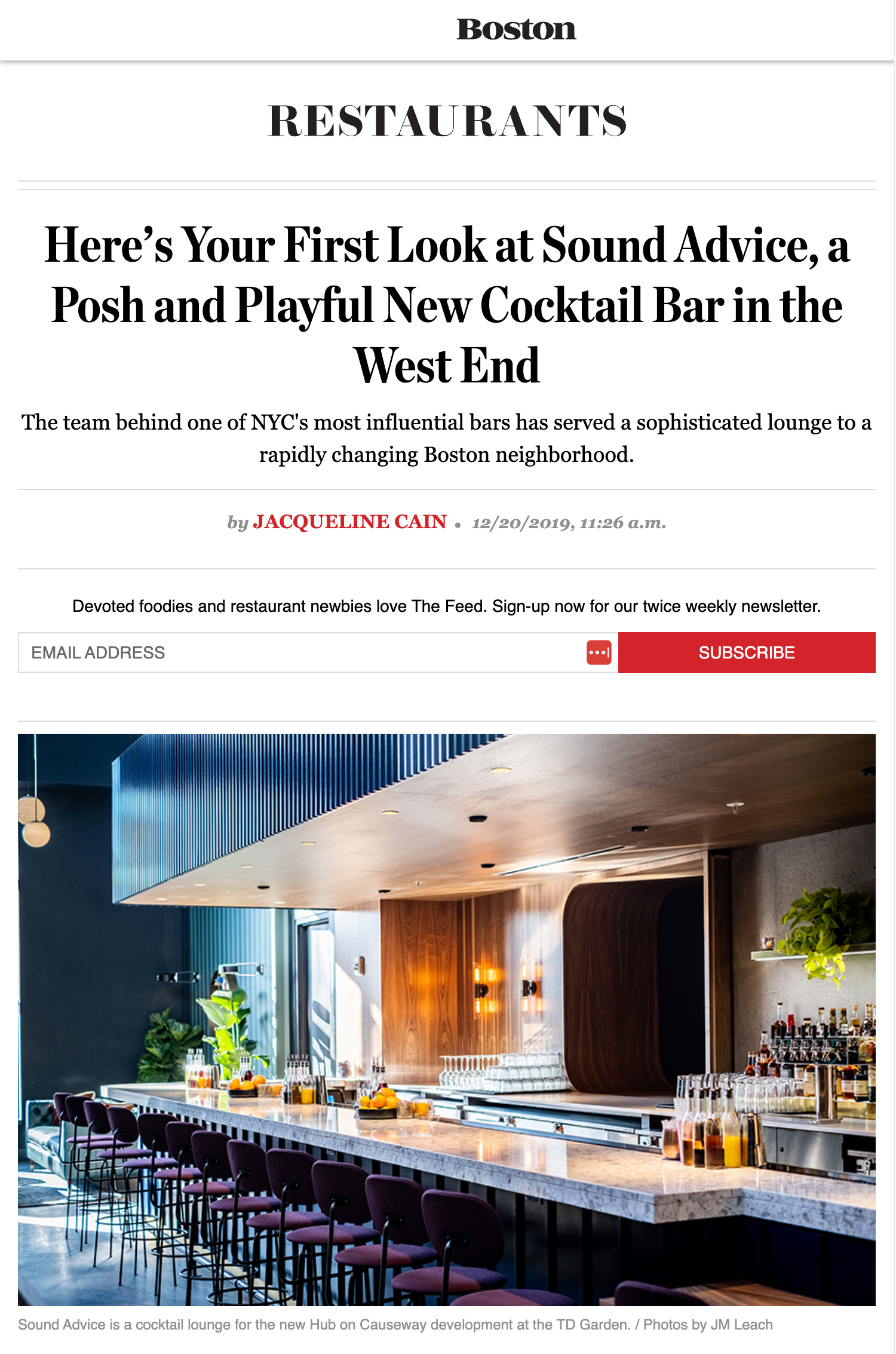 Press
Boston Magazine Sound Advice unveiled in Boston Magazine!
Here's your first peek … hope to see you there!
—
Here's Your First Look at Sound Advice, a Posh and Playful New Cocktail Bar in the West End
by Jacqueline Cain
The team behind one of NYC's most influential bars has served a sophisticated lounge to a rapidly changing Boston neighborhood.
If a modern new cocktail lounge in Boston is on your holiday gift wishlist, we have good news for you. Sound Advice softly opens this weekend on Causeway Street, giving to Boston a stylish, comfortable new place to drink from the creators of one of New York City's most celebrated bars, Death & Co. Located on the third level of the new Hub on Causeway development, adjacent to North Station and the TD Garden, Sound Advice is the latest exciting opening in an absolutely booming part of town.
Here's your first look at the 80-seat bar.
Hospitality companies Proprietors, LLC, and Decurion are behind Sound Advice. Proprietors, LLC is a bar consulting, management, and operations company based in Los Angeles and New York City, which opened Death & Co. locations in the East Village and Denver, and soon, in LA; among other projects. Decurion is the same company that brought ArcLight Cinemas to Boston. Sound Advice is accessible via the new movie theater, and also from Causeway Street via an elevator that opens directly into the new bar.
The third-floor venue has a mix of lounge-style tables, couches, and a 14-seat bar. It also has a separate, reservable, 30-seat private lounge. Designed by AAmp Studio, Sound Advice has high ceilings, and 30-foot floor-to-ceiling windows that let in ample natural light and shadows, says Mary Bartlett, the consulting beverage director at Sounds Advice. An LA-based Decurion employee, Bartlett has been in Boston for several weeks, working with Proprietors' partner Devon Tarby to develop the cocktail menu.
Originally from Woburn, Tarby brought local insight to the project, Bartlett says. But she's enjoyed learning about our scene herself. "I've been out here a lot starting about a year ago. I've been really impressed with the drinking culture I found here," she says. "I've experienced a high level of understanding from guests—I've been out with friends of friends who aren't in the industry, and they're asking me about the fermentation technique in wine as compared to beer. I feel like they know what the pros know. It's been so cool to have that challenge of, how do we bring something new?"
The consultants have tailored Sound Advice for the Boston crowd in several ways. First, it will open earlier in the evening than their New York City or LA venues: Nightly at 4 p.m. here. Sound Advice also has a more robust beer program than places like Death & Co. The six drafts in Boston are mainly local, including Notch Zwickel lager (Salem), Stoneface Porter (N.H.), and SoMe Apostrophe IPA (Maine). There's also an imported cider, and Miller High Life bottles.
"The beer scene, the natural wine scene, and the cocktail scene [in Boston] seem to mesh here in ways I haven't seen before," Bartlett says, adding that she's loved checking out local bars this year like Rebel Rebel Wine Bar, Fool's Errand, and Yvonne's.
The snack menu at Sound Advice is also new for the consultants. Offering food is a contingent of the liquor licensing here, but it's also something Bartlett herself appreciates: When a bar has little bites like "olives and chips, I'm the one who always buys that," she says. Check out the opening menus below.
The cocktails are unique for Boston, but certainly represent what Proprietors is known for. Since debuting Death & Co. in 2007, it's earned acclaimed for creative mixology, known as the birthplace of such new classics as the Oaxaca Old-Fashioned, Naked and Famous (a mezcal drink with yellow chartreuse and Aperol), and the Conference ("a tiki drink disguised as an old-fashioned").
"It's a small city and the community is very tightly-knit," Tarby says about Boston in a press release." "The baseline has been pretty high for as long as the cocktail scene has been in existence here." Her drinks "aim to match the level of sophistication we see at other cocktail bars in this city."
Tarby is "so good at it," Bartlett says. Among her new cocktails for Sound Advice is La Paloma, an updated riff on the classic tequila-and-grapefruit drink, made with Pueblo Viejo Blanco Tequila, pomelo and lime juices, grapefruit cordial, and seltzer; and the Palindrome, a unique creation made with Laird's Bonded and Clear Creek apple brandies, corn orgeat, sweet cream, a whole egg, vanilla, and salted coconut. "Sometimes you feel like every drink has been made already, but like, nope, [Tarby is] still going.
"We are at this really amazing point in the cocktail world where we get to get a little more playful," Bartlett continues. "We're not trend-chasing, but we get to do a cool mix of things from the past and things that are totally new. There are no rules."
Alongside Bartlett, several locals are opening Sound Advice. Patrick Brenner is the general manager, who joins the team from Tiger Mama, which he helped open. He's also an alum of Franklin Cafe, the Gallows, and the Barbara Lynch Collective. Drink alum Lee Morgan is the lead bartender at Sound Advice.
"Neighborhood restaurants and bars often help to define the community," Brenner says in a press release. "In an area of Boston dominated by sports bars and dives, Sound Advice approaches the new era of the West End with an elevated imbibing experience waiting to welcome you with unique, creative, and above all, delicious drinks. Not everybody may know your name when you enter, but we hope to by the time you leave."
Sound Advice will softly open Saturday and Sunday, Dec. 21 and 22, from 6-10 p.m. Beginning Thursday, Dec. 26, it will be be open nightly at 4 p.m., until midnight Sunday-Thursday, and 1 a.m. on Fridays and Saturdays.