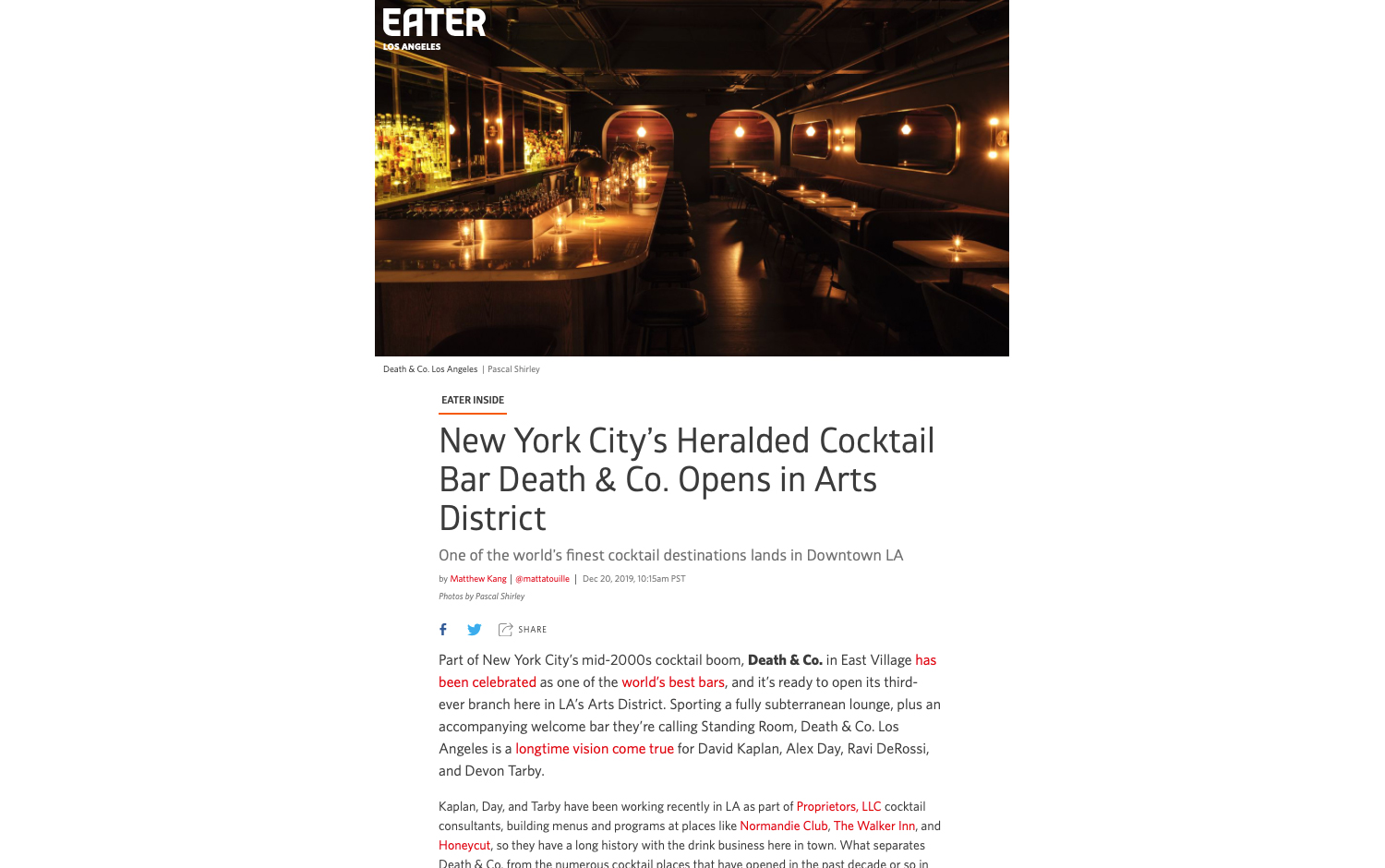 Press
Eater LA Death & Co Los Angeles is Open!
…and Eater LA says so 🙂 Check it out here!
—
New York City's Heralded Cocktail Bar Death & Co. Opens in Arts District
By Matthew Kang
One of the world's finest cocktail destinations lands in Downtown LA.
Part of New York City's mid-2000s cocktail boom, Death & Co. in East Village has been celebrated as one of the world's best bars, and it's ready to open its third-ever branch here in LA's Arts District. Sporting a fully subterranean lounge, plus an accompanying welcome bar they're calling Standing Room, Death & Co. Los Angeles is a longtime vision come true for David Kaplan, Alex Day, Ravi DeRossi, and Devon Tarby.
Kaplan, Day, and Tarby have been working recently in LA as part of Proprietors, LLC cocktail consultants, building menus and programs at places like Normandie Club, The Walker Inn, and Honeycut, so they have a long history with the drink business here in town. What separates Death & Co. from the numerous cocktail places that have opened in the past decade or so in LA? Part of the formula is a relentless sense of innovation in the glass, with unexpected ingredients and flavor combinations boosting the distinctive qualities of each spirit.
Here at LA's Death & Co., the show starts with Standing Room, which offers its own cocktail and food menu while acting as a welcome lounge for the rest of the space. Standing Room's cocktails hew toward classic and traditional, meant for a quick Japanese highball with shiso and pear, or a refreshing Rhum Sour with key lime and Piloncillo. Bites there include salt & vinegar tots or a more substantial mushroom toast. It's a pretty gorgeous space on its own, though the main attraction hides behind some curtains further inside.
Taking a different interior look than its New York City predecessor (the group also expanded to Denver last year), AAmp Studio designs a totally custom lounge with very dim lights, multiple corners and booths to spend time in, and a centerpiece counter with a glowing back bar.
Beverage director Tyson Buhler and head bartender Matthew Belanger will take rotate 25 seasonal cocktails that range from "fresh and lively" to "boozy and honest," such as the pandan-infused Buko Gimlet finished with finger lime zest and coconut water, to the denser Year of the Trees with bourbon, mezcal, amaro, and sarsaparilla. The Buko Gimlet offered the exacting balance of sour and sweet, with hints of cachaca and gin that was so good that one wonders where the liquid went after a few sips.
Food comes via culinary director Wes Hamilton and chef Ana Palomares, with highlights like seared wagyu beef steak with chanterelle mousse and sweet Buckeye rolls with dark chocolate, peanut butter, and shortbread for dessert. The bites are mostly meant to nibble on with drinks, and they provide plenty of conversation starters for lounging cocktailians.
Death & Co. opens December 31 offering a special New Year's Eve ticket situation, with eventual nightly service from 6 p.m. to 2 a.m. Standing Room will only open Thursday to Saturday starting at 6 p.m., with no reservations accepted for either bar.