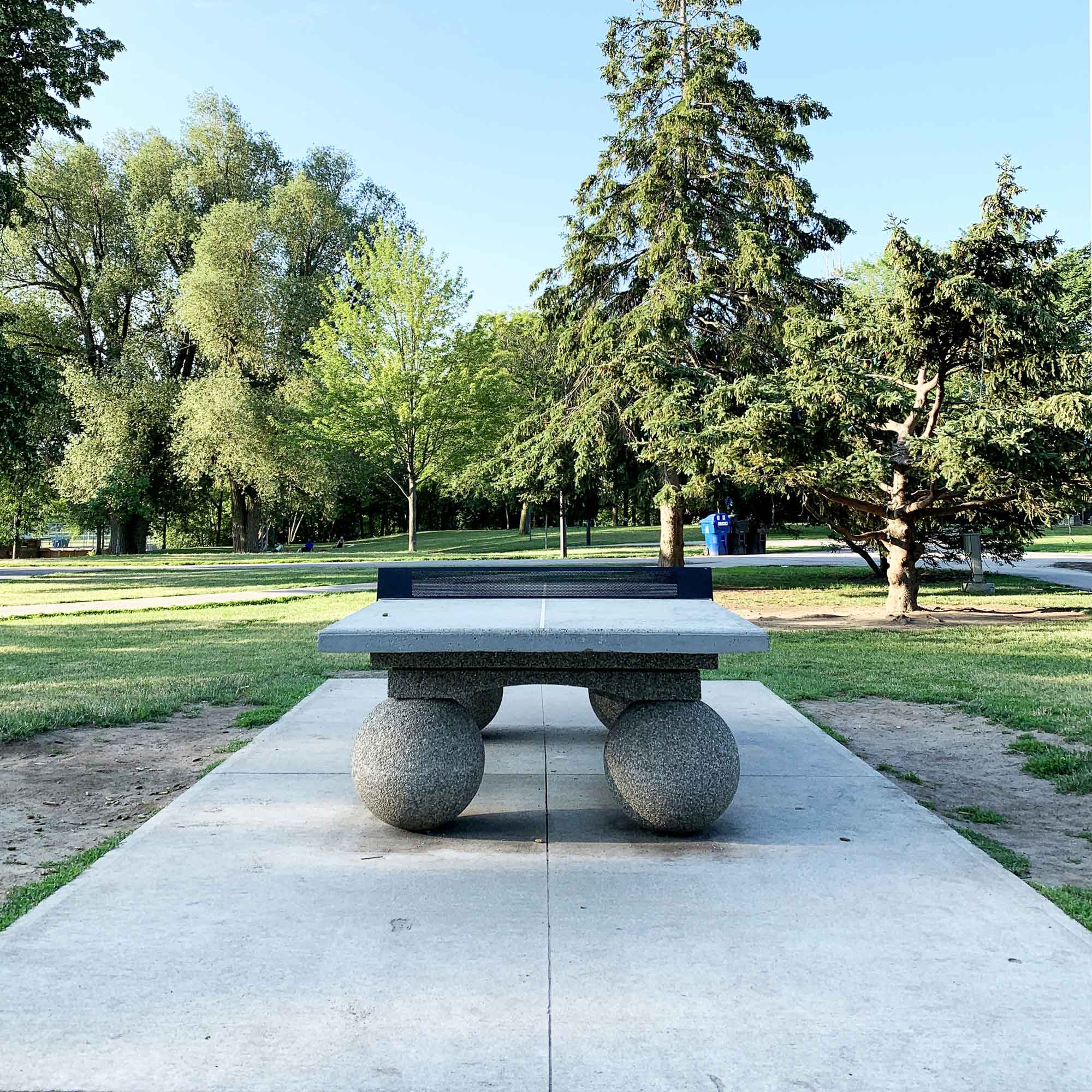 PoMo Ping Pong
Toronto, ON
In and amongst the raucous colorful playgrounds and exuberant splash pads of Toronto's parks, from time to time you might catch a glimpse of a quiet, hulking concrete figure in the distance. From afar, it's easy to mistake it for a sculpture — its hovering rectangular slab perched upon oversized spherical legs reminds us of a playful (albeit colourless) Ettore Sottsass object. Simply put, there are some strong PoMo vibes going on!
Venture a bit closer, and you'll note an elegant, vertical bronze fin bisecting the rectangular slab, and acid etched lines that further divide the plane into quadrants or 'courts' to form a ping pong table. Intrigued, we dug a bit deeper. In 2010, the City of Toronto partnered with charitable organizations to commission local concrete company, Alpha Precasts, to install roughly 100 ping pong tables. While the designer remains unknown (or unnamed), we admire this unique table for its monolithic expression of oversized elements that —  in a tongue-in-cheek way — reference ping pong balls.
We feel there is a lot to learn from the design of these ping pong tables and what impact they can have on the public realm. The table is both appealing and curious to look at, its material is resilient to wear and tear, changing weather conditions, and it encourages a form of informal public play for all ages. In cities  like Toronto, where densification increases every year, programming public spaces to support small-scale interaction and exercise for its inhabitants is critical. We hope to see more exuberant and accessible objects of play pop up in our neighbourhoods soon!