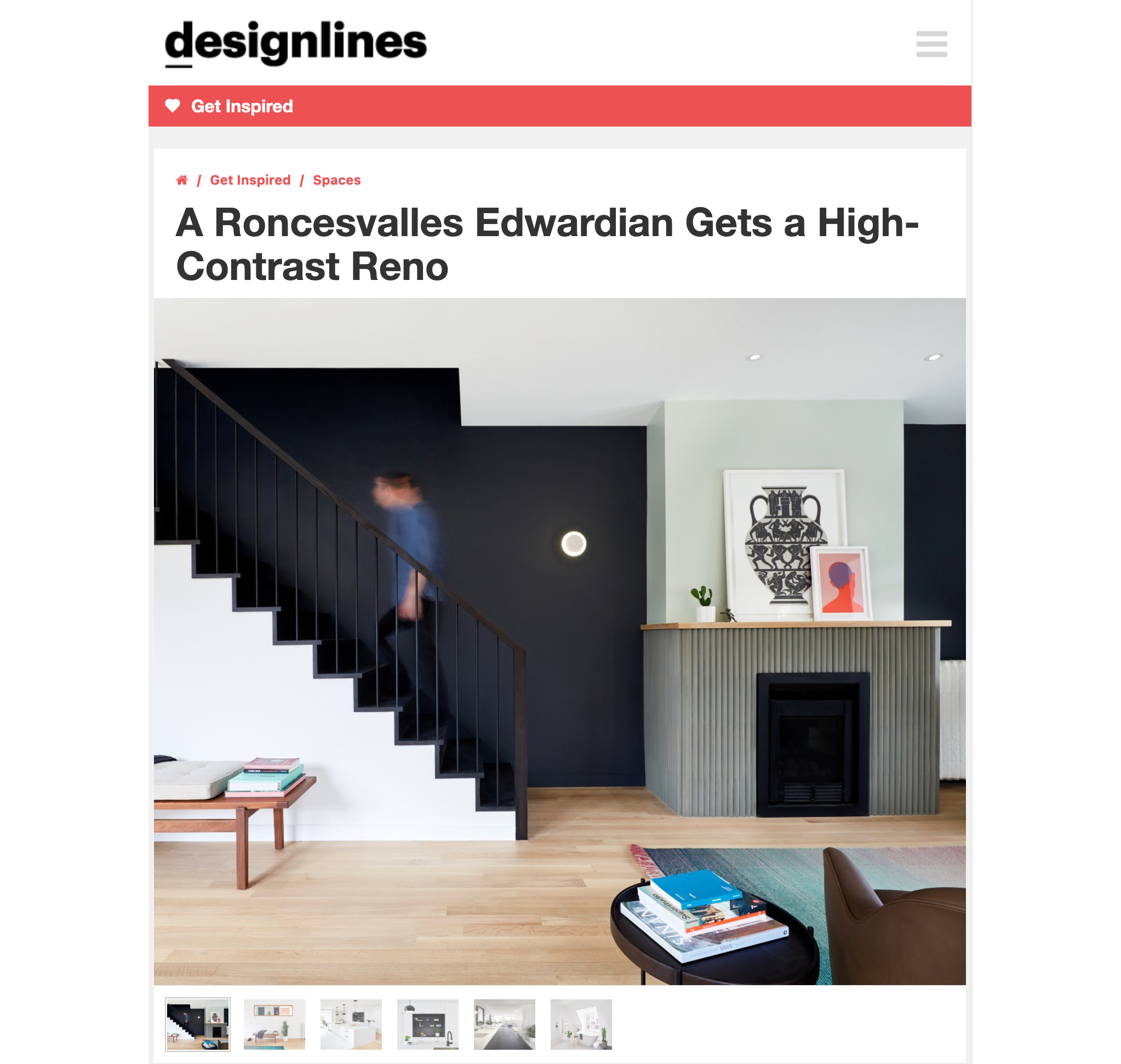 Press
Designlines Sunnyside Townhouse featured in Designlines Magazine!
Excited to see our Sunnyside Townhouse project featured in Designlines Magazine this month! Hope you can pick up a copy! In the meantime, click here to read their online feature.
—
A Roncesvalles Edwardian Gets a High-Contrast Reno
With a statement staircase and contrasting palette, AAmp Studio sets the scene for a celebratory makeover of a century-old townhouse
By Anya Georgijevic
An open mind and a willingness to take risks define this Roncesvalles-area home, one replete with texture, millwork and large swathes of colour. The three-storey Edwardian-era semi underwent an overhaul that knits together the ideals of one creative family and the inventive minds at AAmp Studio. The owners, one a lawyer with an affinity for art and woodworking, the other an educator and avid quilter, initially approached AAmp to expand the third-floor footprint, but the architects' vision for the whole house proved too irresistible.
Anne-Marie Armstrong and Andrew Ashey of AAmp Studio proposed an open-plan concept centred around a dramatic staircase. A striking black and white palette introduces bold contrast and depth throughout the home. "Texture and colour were something the clients really embraced from the beginning, and that gave us a chance to play with various aspects," says Armstrong.
The architects, who worked with Plan A design-build, began by opening up the main level, tearing down dividing walls and transforming a series of small rooms into a single light-filled space. White oak populates the living room, while a stained black version takes on verticality with the contrasting staircase. Upstairs are two bedrooms, a bathroom and a family room that leads into a spacious home office. The latter two are separated from the more intimate spaces by a large pocket door, a feature that AAmp Studio used throughout the house to create privacy and openness as needed.
The top of the staircase spills onto black-stained oak flooring – a deliberate material change that acts as an artful endnote. The entire third storey is dedicated to the owners' private quarters: a large master bedroom with an airy ensuite bathroom and an east-facing roof deck. The connection to the outdoors is a theme that runs throughout the design, making this once dimly lit home look and feel a lot larger than its modest 210-square-metre floorplan. The narrow townhouse also gained a deeper sense of depth and volume thanks to AAmp Studio's ability to deliver on the clients' enthusiasm for contrasting colours and textures.