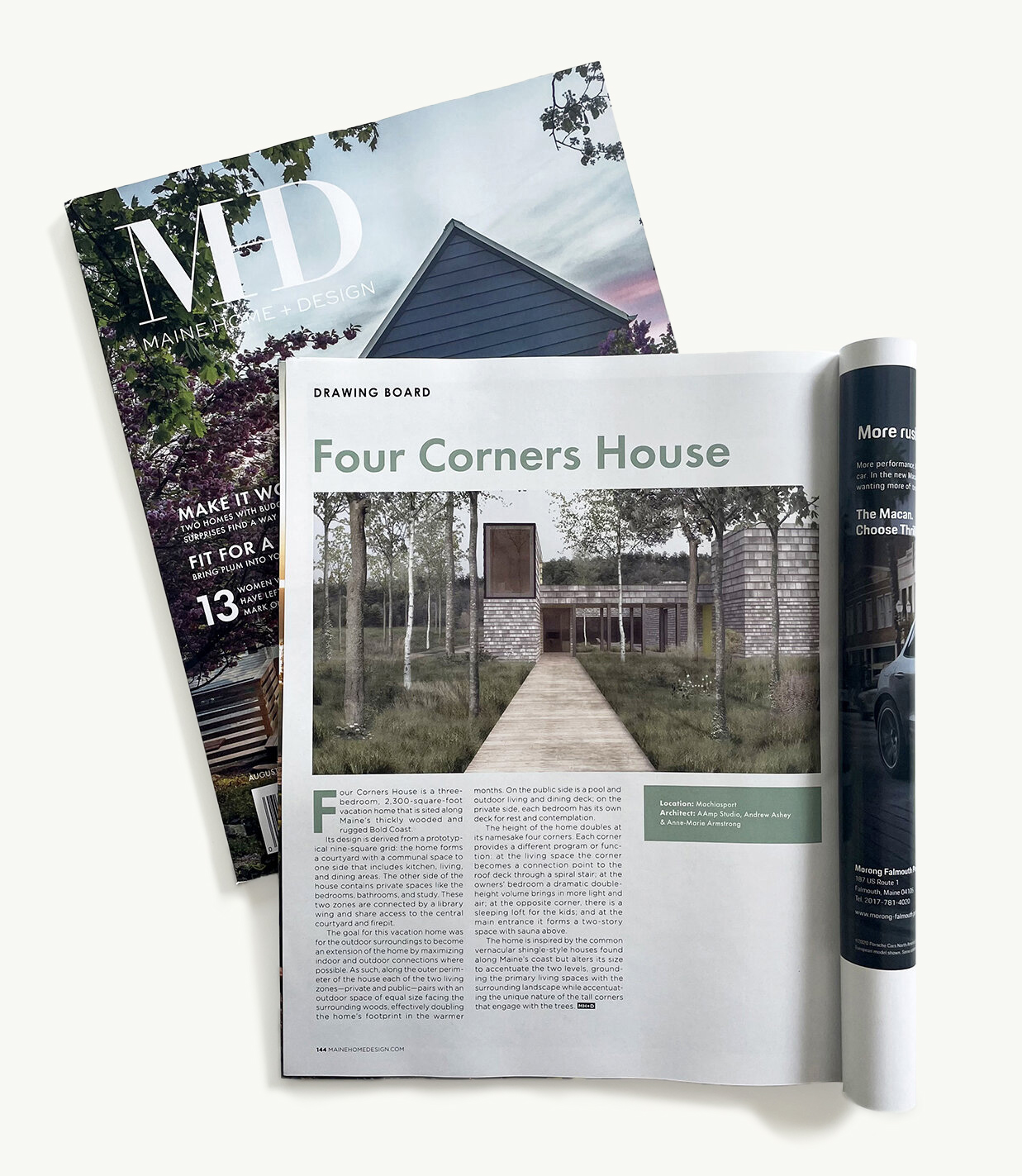 Press
Maine Home + Design Four Corners House featured in August issue of Maine Home + Design magazine
Very excited to see August's issue of Maine Home + Design featuring our Four Corners House in its monthly Drawing Board section! You can access the online article here.
—
Four Corners House
Four Corners House is a three-bedroom, 2,300-square-foot vacation home that is sited along Maine's thickly wooded and rugged Bold Coast.
Its design is derived from a prototypical nine-square grid: the home forms a courtyard with a communal space to one side that includes kitchen, living, and dining areas. The other side of the house contains private spaces like the bedrooms, bathrooms, and study. These two zones are connected by a library wing and share access to the central courtyard and firepit.
The goal for this vacation home was for the outdoor surroundings to become an extension of the home by maximizing indoor and outdoor connections where possible. As such, along the outer perim-eter of the house each of the two living zones—private and public—pairs with an outdoor space of equal size facing the surrounding woods, effectively doubling the home's footprint in the warmer months. On the public side is a pool and outdoor living and dining deck; on the private side, each bedroom has its own deck for rest and contemplation.
The height of the home doubles at its namesake four corners. Each corner provides a different program or function: at the living space the corner becomes a connection point to the roof deck through a spiral stair; at the owners' bedroom a dramatic doubleheight volume brings in more light and air; at the opposite corner, there is a sleeping loft for the kids; and at the main entrance it forms a two-story space with sauna above.
The home is inspired by the common vernacular shingle-style houses found along Maine's coast but alters its size to accentuate the two levels, grounding the primary living spaces with the surrounding landscape while accentuating the unique nature of the tall corners that engage with the trees.