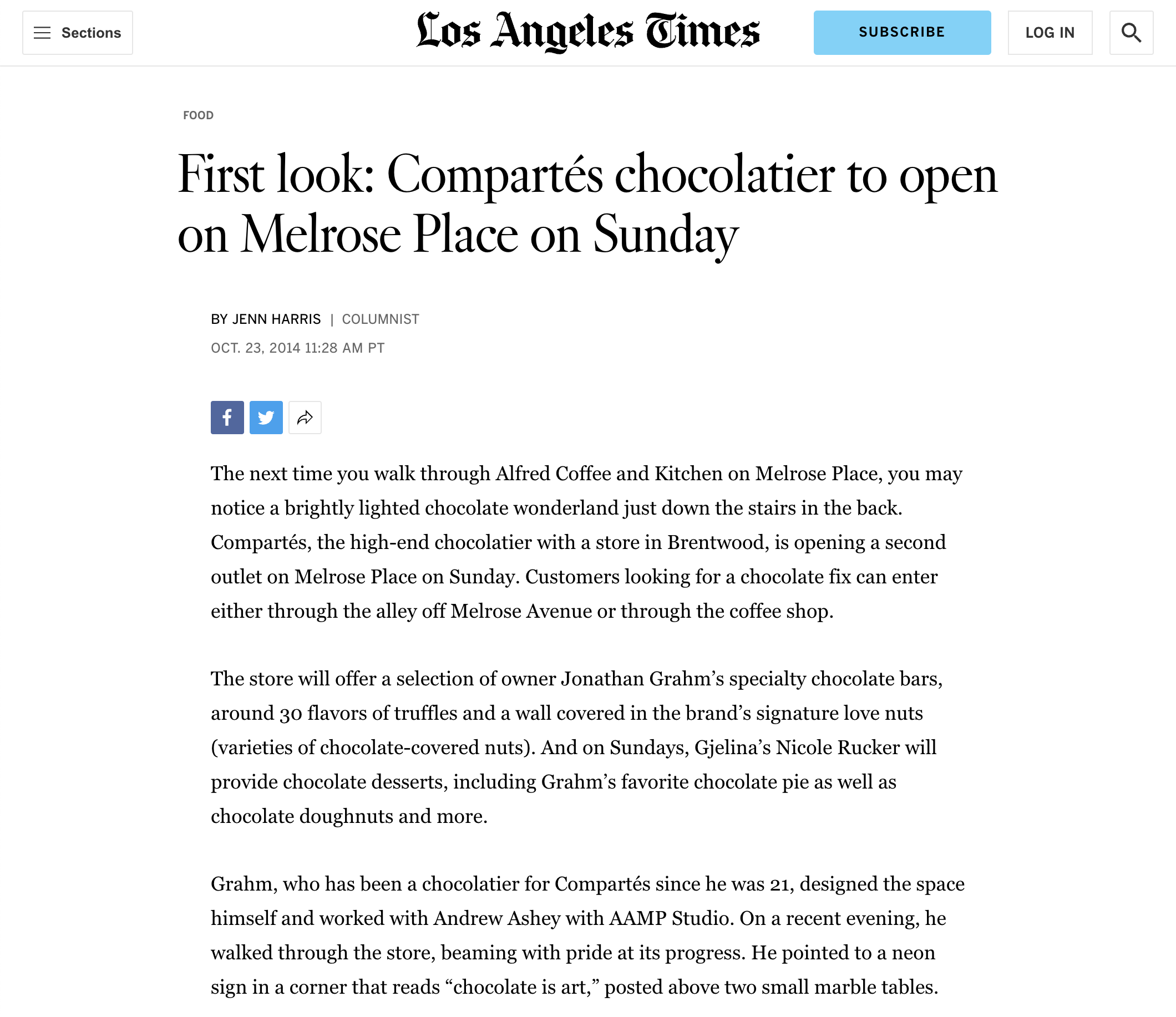 Press
LA Times Featured: Compartes Melrose on LA Times!
Nice little write-up over at the LA Times!
—
First look: Compartés chocolatier to open on Melrose Place on Sunday
By Jenn Harris
The next time you walk through Alfred Coffee and Kitchen on Melrose Place, you may notice a brightly lighted chocolate wonderland just down the stairs in the back. Compartés, the high-end chocolatier with a store in Brentwood, is opening a second outlet on Melrose Place on Sunday. Customers looking for a chocolate fix can enter either through the alley off Melrose Avenue or through the coffee shop.
The store will offer a selection of owner Jonathan Grahm's specialty chocolate bars, around 30 flavors of truffles and a wall covered in the brand's signature love nuts (varieties of chocolate-covered nuts). And on Sundays, Gjelina's Nicole Rucker will provide chocolate desserts, including Grahm's favorite chocolate pie as well as chocolate doughnuts and more.
Grahm, who has been a chocolatier for Compartés since he was 21, designed the space himself and worked with Andrew Ashey with AAMP Studio. On a recent evening, he walked through the store, beaming with pride at its progress. He pointed to a neon sign in a corner that reads "chocolate is art," posted above two small marble tables.
"I wrote it myself, had it made and I thought, 'I can see so many Instagrams of this,'" said Grahm. "I think people will really be into it."
A triangular marble counter display case awaits truffles, and a bar wall, three times the size of the bar wall in Brentwood, is half full of Grahm's chocolate bars. They all feature packaging he designed himself, with pictures of unicorn heads, dolphins, geometric shapes, hieroglyphics and more. The bars are displayed on 24-karate-gold-plated shelves next to a rainbow wall colored with boxes of love nuts.
On the floor, subway tiles are inset with triangular black and white tiles to form larger triangles. Grahm wanted to mimic the custom triangle print on his chocolate bars throughout the space.
"I wanted to create a signature Compartés look that will translate into stores three and four, someday, after I rest."
Behind the counter, Grahm will hang a large gold Compartés sign, and there's a bathroom devoted to Marilyn Monroe, who Grahm says was one of Compartés' biggest fans.
"Chocolate and chocolatiers have always had a certain look," said Grahm. "People are used to a Euro, frilly, kitschy look, and Compartés, it's the opposite of that. It's fun, young, vibrant and upscale."
Grahm plans to release a new selection of bars at the store, which he describes as "gourmet nostalgia." The Drive In bar includes milk chocolate and caramelized popcorn, the Donuts and Coffee bar has actual pieces of doughnuts in it along with ground coffee, and the Campfire Bar has dark chocolate, "grahm" cracker and marshmallow. And all of the packaging features Grahm's signature designs.
There's also the Wild Cocoa chocolate bar made with cocoa foraged from a rain forest, which sells for $12.95 a bar.
"Some people say Compartés is the Prada of chocolate. I think that's a huge compliment."
Compartés will be open daily from 10 a.m. to 7 p.m.