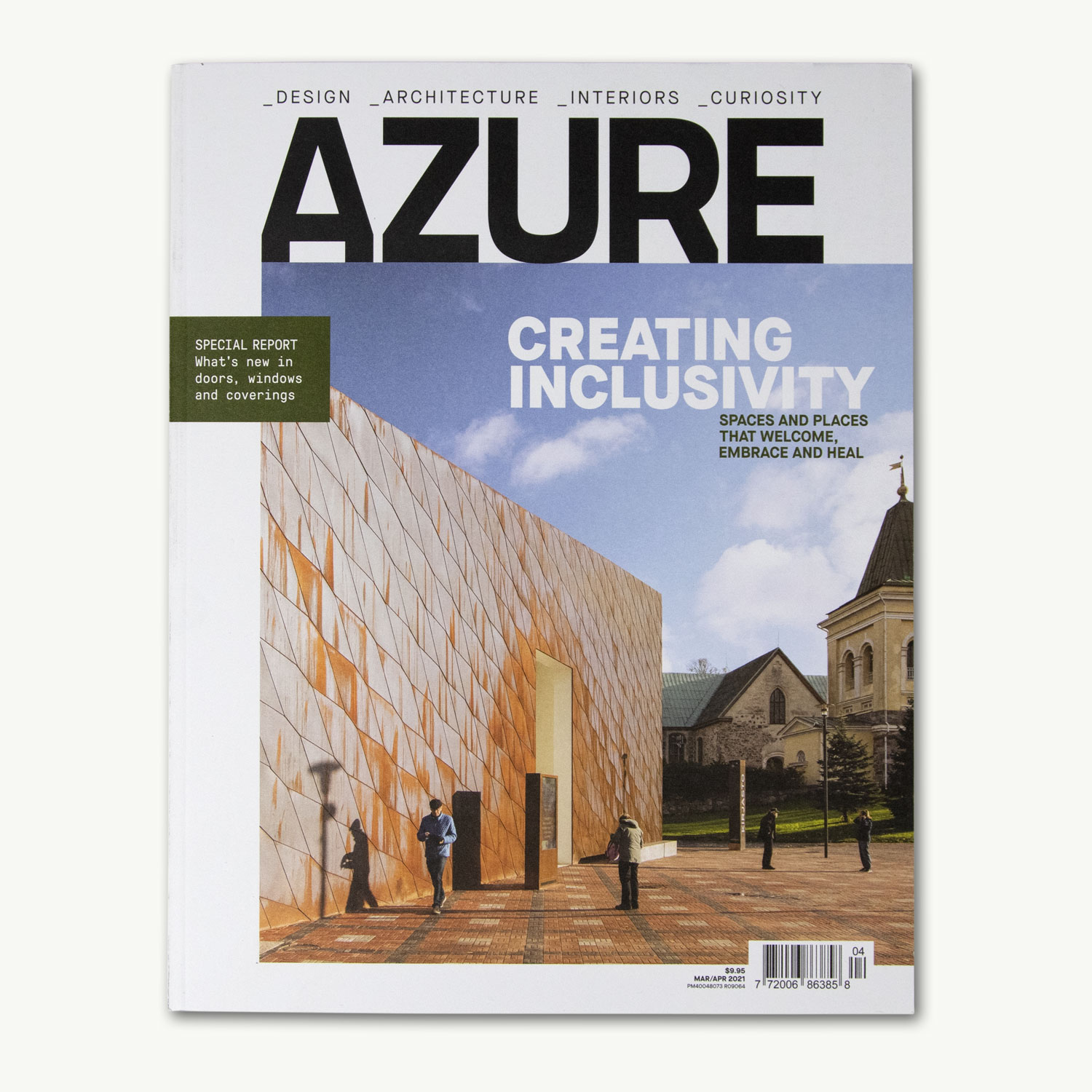 Press
Azure Magazine Azure Magazine features Ell House!
Excited to see Ell House featured in the current issue of Azure Magazine! Hope you can pick up a copy. Link to story here.
—
Ell House Merges Two Wings – and Design Visions – in Prince Edward County
A pair of young firms – Ravi Handa Architect and AAMP Studio – blends Nordic architecture and California modernism for a distinctively shaped getaway in Ontario wine country.
By Alexandra Caufin
Ontario's Prince Edward County, the upstart lakeside wine region between Toronto and Montreal, is in a compelling state of flux. Protected farmland, rustic barns and quaint century homes occupy much of its sublime terrain. Over the past decade, a slew of young wineries, farmers' markets and chic grassroots culinary experiences have also materialized, making The County, as it's known in the region, a blossoming tourist centre. (Think of it as a Canadian version of upstate New York.) To meet the growing visitor demand, a number of contemporary rental retreats have been springing up of late. Among them is the burnt cedar-wrapped Ell House, a collaboration between two emerging firms, Ravi Handa Architect and AAmp Studio.
Based in Montreal, Handa practises Nordic-inspired architecture and is now designing energy-efficient vacation homes in rural Quebec. AAmp's Anne-Marie Armstrong and Andrew Ashey (currently based in Toronto and Portland, Maine, respectively) came up in Los Angeles, surrounded by experimental California modernism and the prevailing backyard living-room model that marries inside and out.
Indoor–outdoor fluidity was key to their Canadian clients, who were after a family getaway that they could also rent out. Ell House is surrounded by agricultural land on three sides and Lake Ontario to the south. But the highspeed gusts off the water meant that large windows were out of the question — they would leak too much energy — unless the architecture itself could temper the effect. To fulfill the desire for epic views and al fresco living, the firms put their heads (and architectural ideals) together, proposing the distinctive arrangement that gives Ell House its name.
Composed of two buildings — sleeping quarters for eight to the west and a lofty common area to the east — the 200-square-metre layout takes its inspiration from the early-20th-century practice of adding wings to a farmhouse as a family and farm grew, often resulting in L-shaped homes. Connecting the two structures, an airy glass vestibule provides a 180-degree perspective to the outside.
As Handa explains, "you have a moment to arrive, to appreciate the water in front of you and the farmland behind you." From this vestibule, guests bring suitcases to the dormitory's landing room or head straight to the common area. En route, they can drop groceries and market finds in the kitchen hallway, tucked away from the main room.
To create a more intimate atmosphere in the kitchen proper, the architects lowered the vaulted ceiling to 2.54 metres and levelled it with a mezzanine — a rec area for kids, reached by ladder and covered by a playful slatted screen. A vaulted ceiling of whitewashed pine provides a feeling of sanctuary in the exceptionally quiet living and dining area.
Outside, the sleeping quarters' placement to the west buffers the wind off the lake and delineates a protected courtyard complete with a zigzagging boardwalk. German-engineered triple-pane windows and doors offer further protection along the common room's south-facing wall, while sliders carefully aligned to the dining area provide a stunning view to the lake.
Emphasizing its role as a frame for what lies beyond, each threshold is lined in rich pine. It's one of only a few materials in the home's muted palette, which is rounded out by polished concrete, white cabinetry and light oak millwork. "You have this dark silhouette and striking exterior, and then inside it's the inverse," Armstrong says, "a bright space that creates a neutral backdrop for seeing the landscape through the architecture."
In both its grand gestures and its fine details, the home is in constant conversation with the nature that surrounds it. And in its single-storey, ground-hugging form, Ell House also embraces the scale of that terrain rather than dominating it, successfully invoking two design traditions that celebrate connection to the landscape at every turn.