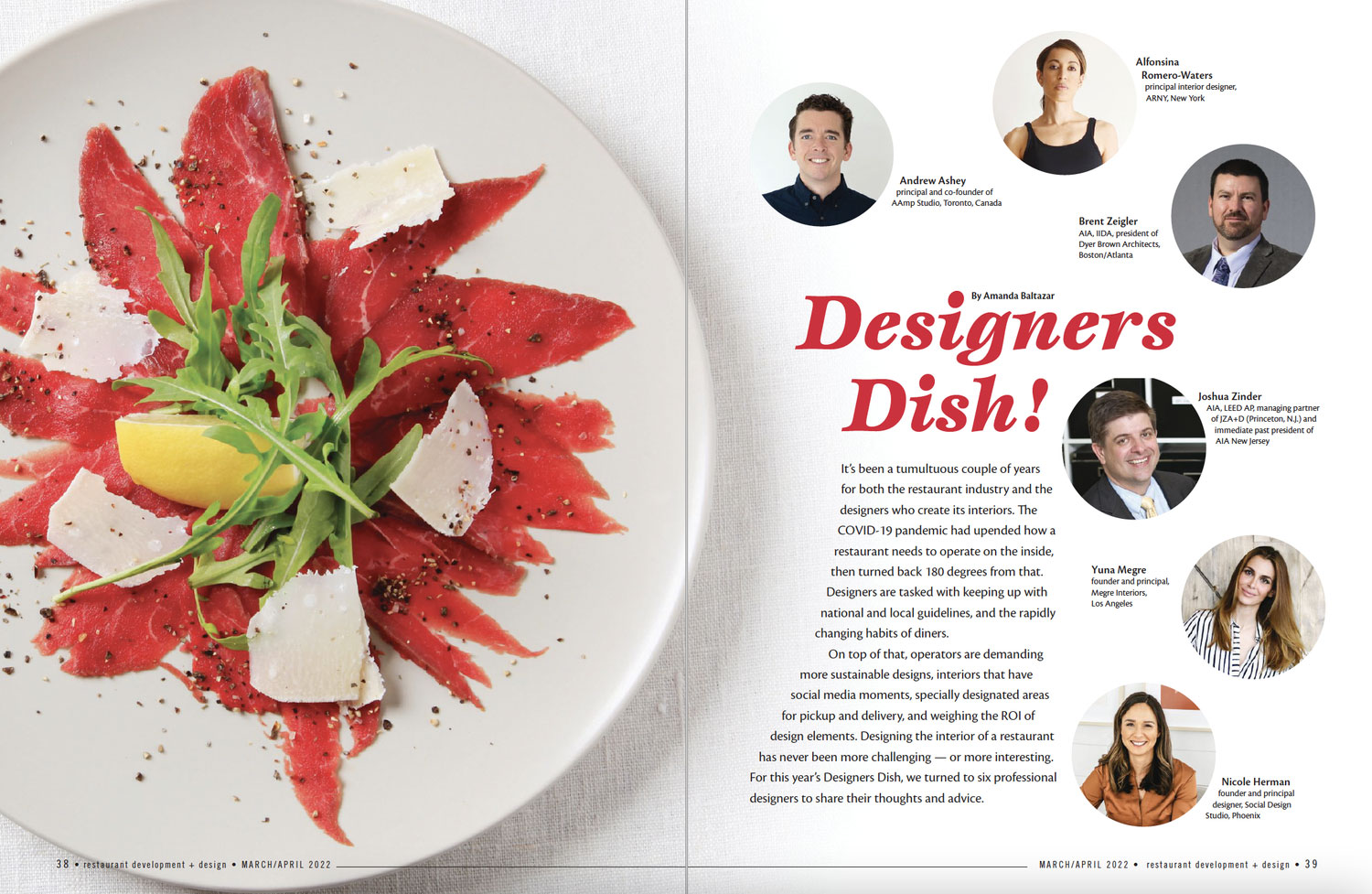 Press
RDD Magazine AAmp's Andrew Ashey discusses restaurant design with RDD Magazine
We had a great time discussing our approach to bar & restaurant design for Restaurant Development & Design's March/April issue, featuring our design for Death & Company in Los Angeles. You can access the article here.
—
2022 Designers Dish!
By Amanda Baltazar
It's been a tumultuous couple of years for both the restaurant industry and the designers who create its interiors. The COVID-19 pandemic had upended how a restaurant needs to operate on the inside, then turned back 180 degrees from that. Designers are tasked with keeping up with national and local guidelines, and the rapidly changing habits of diners.
On top of that, operators are demanding more sustainable designs, interiors that have social media moments, specially designated areas for pickup and delivery, and weighing the ROI of design elements. Designing the interior of a restaurant has never been more challenging — or more interesting. For this year's Designers Dish, we turned to six professional designers to share their thoughts and advice.
Let's start with the most obvious concern: How has the pandemic affected how you approach your designs?
Ashey: With the ebb and flow of mandates and comfort levels, restaurant owners need to be able to space people out or pull them back together. Providing the right type of 
furniture, booth configuration, lighting distribution and circulation — without compromising the comfortable and vibrant atmosphere people crave when they go out — is important.
Zinder: In general, operators seem to be looking for flexibility. They want barriers, separations and spaces between tables to make people feel comfortable, but they also look ahead to a time when they can go back to an increased seat count, and they want the design to support that future shift.
Zeigler: We're seeing an increased desire for protected or covered outdoor dining options. Even restaurants in cold climates are looking to extend the viability of their outdoor dining options further into the fall and earlier in the spring.
Romero-Waters: It is critical to find creative ways to provide space around tables without compromising seat count. Comfortable perimeter seating along windows efficiently utilizes wall space, and proximity to windows gives customers a sense of openness around them. Using greenery as barriers between tables also creates physical separation to help reduce customer anxiety.
Ventilation and fresh air are priorities. Retractable windows and doors are innovative and differentiated ways to welcome airflow into the restaurant. Post-pandemic, restaurant customers want open, airy environments to make them feel comfortable, so interior designs should incorporate and emphasize these qualities.
What other macro trends are informing the interior design of your restaurant projects?
Herman: Social media continues to have a powerful impact on how we look at designing new spaces: Will this space be considered one of the hot new restaurants? Where are the social media moments happening for the guests?
Megre: One of the biggest driving forces has been the snapshot mentality. Instagramability is of more considerable value than actual quality. This leads to designers focusing on 
gimmicks and shocking the audience rather than creating a quality environment with long-term value. Brands should be careful of this approach, evaluating its impact on their long-term goals and perceptions.
Zeigler: There's a growing need for dedicated pick-up areas for food delivery service workers. Because many restaurants have only one main entry and exit, the increase in delivery volume can create traffic flow issues. We're finding that this really needs to be part of the discussion from the start when designing a new venue.
Romero-Waters: Dine-in restaurants must offer a differentiated experience to stay competitive. Three themes inform my designs: escape, authenticity and shareable moments. Creating an escape from the digital world in the form of earth tone neutrals inspired by nature. Authenticity means giving the restaurant a unique identity influenced by the building's history and using materials that make the space feel established. Customers also want to share their experiences online. Moments that can double as good backdrops are also valuable marketing material for the restaurant. 
What are your biggest challenges when working with clients and how do you overcome them?
Ashey: When we sense a client is being quieter or reserved in a meeting than usual or is suddenly a bit more sporadic via email, we try to find out why. Sometimes there might be something in the process they are unfamiliar or uncomfortable with but don't know how to voice it. By doing so we try to give them that voice before the design gets too far along.
Megre: One of the biggest challenges is expectation management. Aligning wants, needs, and resources, setting priorities. We overcome these through open and sometimes challenging conversations with our clients. Our job is to guide them through the process, support them, and challenge them to dig deeper into the heart of the concept to create precisely what is needed.
Zeigler: Increased construction costs and supply chain issues have made it more difficult to deliver projects on budget and on time. We have found the best way to address this is to have up-front conversations to ensure our clients set realistic budgets and schedules and understand they must be flexible when a product or piece of equipment is not available.
Are clients requesting more sustainable design/sustainable elements in the design and how are you accomplishing that?
Herman: Sourcing locally when possible, specifying low-emission paints and finishes, using LED lighting, and looking at recycled materials are some practices we have incorporated.
Megre: One of our biggest goals is to source locally when possible and to work with artisans and small businesses. This allows us to create unique pieces for our projects, support local communities and reduce the shipping footprint. It also grants us better visibility and control of production methods used.
Zinder: Restaurateurs generally want to invest in sustainable design, but those aspirations will always be secondary priorities after cost, budget and bottom line. Farm-to-table is still a popular element, and green design goes hand in hand with that. Sustainability is part of our practice mission statement, so we make it a part of all of our projects, even though interest in certifications like LEED seems to be waning.
How are you both keeping costs down in your restaurant design and splurging when it works for the design?
Ashey: To keep costs down we focus on high-touch areas to be higher quality — the seating, the furniture, the bar top, the decorative lighting. Things are essentially within arm's reach. The rest we treat in tiers — what's not going to be seen so much when the lights are low? What materials won't get a lot of wear and tear? These items can be a bit lower quality but still beautiful to look at and contribute to the overall atmosphere of the space.
Herman: We like to create the overall design first and then look at the areas to scale back or value engineer. The overall design should be impactful. Some splurges are not worth the ROI and will not create this impact. However, if you value engineer out the entire space, the restaurant can lose its energy and fall flat.
Zeigler: We keep close tabs on construction cost fluctuations. If we know wood products are spiking, then we might look at alternatives. It's always a balancing act between costs, quality and specificity. We also work closely with our contractor partners during the construction process to identify strategies for keeping costs in line.
Zinder: We investigate the existing space to find creative solutions for less money. Wherever possible we are looking for flexible solutions that add tables, including outdoor spaces. In many cases we're looking at window systems that can open to seamlessly blend indoor and outdoor seating areas, bringing the outside in and vice-versa.
What are some design mistakes you're seeing in today's restaurants and how are you avoiding them?
Ashey: Lighting is the number one mistake we see. Getting a lighting designer and/or smart control system helps set up different scenes for different times or tasks. This goes so far in creating the right atmosphere.
Second is probably sound. If a space is too reverberant or noise-deadening, it can be uncomfortable for the diner. Even distribution of music and sound at a comfortable level helps guests focus on the people and conversation at the table. Spending a bit more on systems for smart integration goes a long way in keeping the mood in the space right.
Megre: One of the biggest mistakes in restaurant design today, from which many others stem, is working with designers who do not specialize in the field. Designing a restaurant requires an in-depth understanding of its operational, marketing and conceptual needs. Not just a desire to create a beautiful space. 
Zeigler: There is almost never enough space at the entry of a successful restaurant to keep it from feeling congested. In the past, people would deal with this and be shoulder-to-shoulder with others while waiting. In our
current pandemic world, this is not acceptable for many people, so we're doing our best to innovate and produce new strategies and solutions.
Romero-Waters: A common mistake in restaurant design is neglecting the front entrance. The guest experience starts when the customer sets foot in the door. A comfortable, welcoming entrance makes the wait pleasant. I think about adjacencies of the entrance to the bar and bar lounge. The entrance should double as an area for socializing and taking in the space before going to the table. A lot of restaurants overlook this important first impression because they don't have the space or the staff, but an impatient customer can be turned off and start out their experience with the wrong vibe.
Overlooking bathroom design in order to save costs is another common mistake. Sometimes the bathroom corridor feels disconnected from the rest of the space. It's a hidden opportunity to continue the visual experience and brand identity. The bathroom itself is an opportunity to add distinctive touches such as fully private door stalls, child friendly sinks or a cool mirror.
How do you truly reflect a restaurant's brand through its design?
Ashey: We like to focus on the total experience. This ranges from the core and shell that make up the space, the furniture and fabrics that go into it and the signage and printed collateral that lines its walls and tables. To us, space encompasses all of those elements — a holistic environment. With our clients we always go through a discovery and concept process that addresses both space and branding in tandem. That way both are born of the same cloth and establish a symbiotic relationship. You can always work the other way, putting space before branding or vice versa, but we find treating them as one in the same experience creates a much more impactful and integrated end-product.
Herman: The key to a restaurant being a true reflection of the brand is to deeply understand our client and their story. When working with a first-time client, the purpose of the initial meeting is to get the client to talk. We want them to talk about themselves, the goals for their space, and the why behind creating the concept. Once we have a firm grasp of these elements, every finish we select and every aspect we incorporate into the design will reflect their brand.
Zeigler: I think the big moves are obvious — it's in the space, the interior, the furniture, the signage — but it is the small things that really make an experience feel uniquely branded. What does the silverware say about the experience or the brand? Are the napkins appropriate for the story the restaurant wants to tell? What about the user's experience of the bathrooms, right down to the scent? These are the small touches that can really fill out the overall story and help a venue sing.