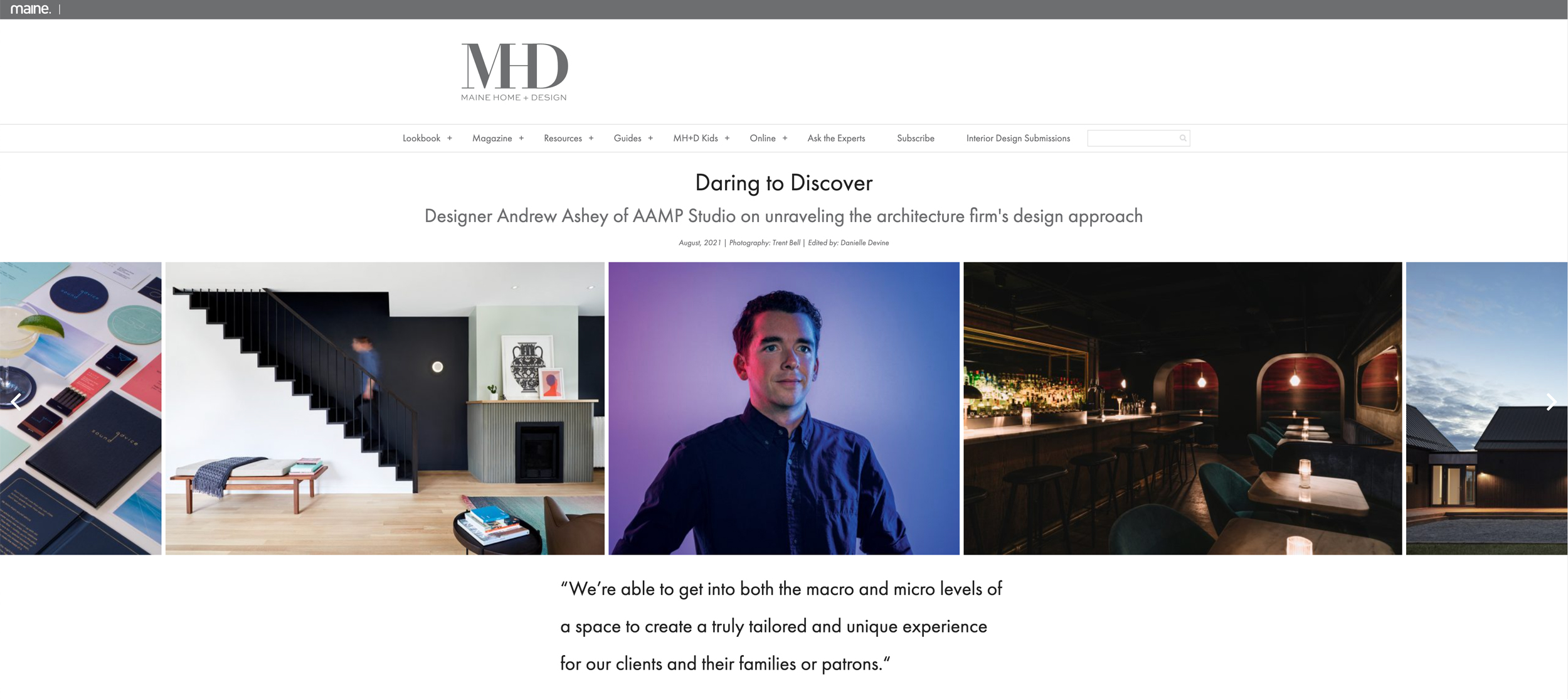 Press
Maine Home + Design AAmp's Andrew Ashey discusses our design process with Maine Home + Design Magazine
Recently AAmp Studio's Andrew Ashey sat down with Maine Home + Design Magazine to discuss our studio's design process, sources of inspiration and our Portland, Maine studio. We're excited to see the excerpts published in this month's issue — thanks to all for the fun feature! You can access the full story here.
—
Daring to Discover
Designer Andrew Ashey of AAMP Studio on unraveling the architecture firm's design approach
Edited by: Danielle Devine
"We're able to get into both the macro and micro levels of a space to create a truly tailored and unique experience for our clients and their families or patrons."
Q. Can you tell me a bit about what separates your firm's design process from most?
A. AAmp Studio is unique in that we believe design is a cultural experience that is layered, democratic, and fun. This extends into our practice both in terms of our multi-disciplinary approach to design and the "Discovery" process through which we take our clients.
We believe in creating a holistic design that goes beyond the typical architectural confines of the floors, walls, roof, etc., that make up a building or space. As such, we offer full design services to include interior design, environmental graphics, and branding in addition to architecture. This way we're able to get into both the macro and micro levels of a space to create a truly tailored and unique experience for our clients and their families or patrons.
In the early concept phase, which we call "Discovery," we spend a lot of time with our clients going through word and visual exercises before getting into any design specifics. We feel this helps set aside any preconceived notions or expectations about the project or process. It lets us get to know one another, get everything on the table, and start fresh. Often we or our clients will walk away from the Discovery process with a different approach or direction than originally imagined.
Q. How involved are your clients in the design process?
A. Very involved. We consider our clients to be just as much a part of the design team as we are, but we see ourselves as a tool for them to actualize their vision and goals, to execute them, and see them through. We believe in a democratic approach to design, and while the Discovery process is a large part of that, it extends beyond into all phases of design. Each client is different, of course, and wants varying levels of involvement, so after the Discovery phase, we offer them many opportunities to bring their voice and vision to the table, through to construction. At the end of the day, it's the client's space—they'll be living or operating out of it, so we want to be sure it's right for them, not us. It's why each of our projects is unique—we listen to the client, advocate for the best spatial and aesthetic direction that meets their needs, and help facilitate the process to completion.
Q. Where do you draw your inspiration from?
A. Our clients' personalities are a big influence, but most of our inspiration comes from daily observations in the spaces around us. On our website we keep an ongoing log of observations called "AAnnotated" where we periodically document peculiar or interesting discoveries that we feel have the potential to shift our common perspective or approach to an architecture problem, objective, or solution. These range from a public Ping-Pong table in a Toronto park to a market in Brasilia to a boatyard along the Maine coast—design is everywhere, even in the seemingly mundane; we just have to find it.
Related to this, our commitment to teaching, research, writing, and advocacy deeply informs the work of our practice as well. As a BIPOC and LGBTQ+ studio, AAmp believes strongly in equity, diversity, and inclusion within the profession. Anne-Marie is a founding member of BAIDA (Black Architects and Interior Designers Association), a nonprofit organization that focuses on creating opportunities for other minorities within the field. We also engage with the LGBTQ+ community whenever possible. For example, last year we contributed to the Toronto Society of Architects' call for Virtual Pride Float submissions to celebrate the LGBTQ+ community throughout June, in place of in-person festivities due to COVID-19. We also submitted a response to the Canadian LGBTQ+ National Monument earlier this year.
Q. Have you recently visited a place or a particular piece of architecture in Maine that you have carried over to your design process?
A. There's so much inspiration to be found in Maine. We're particularly intrigued by the smaller harbor villages nestled in more rural settings, like Port Clyde and Rockport. These villages offer a small pocket of density tucked between the wooded landscape and the water that creates such a unique juxtaposition and concentrated vitality.
We often see architecture as the act of repositioning— whether it be a streetscape, a building, a room, or even expectations. Four key process-oriented words we're always drawn to in this act of repositioning are veil, insert, bundle, and contrast. It's an oversimplification, to say the least, but we often find our approach to design or architecture fitting into one of these approaches, and these villages tick a lot of the boxes. They bring a wonderfully vernacular collection of buildings and programs together in a unique setting that both stand apart from and yet is entirely at home with their surroundings. What's more, they've evolved in a wonderful way: while many of them still serve the maritime community, they now include restaurants, shops, and housing in a manner that allows some growth or change without sacrificing integrity.
These villages and other sites around Maine have also inspired our current work, such as a new residence in Yarmouth that utilities oversized openings and simple shed forms to introduce a vernacular language common in New England barns, a vacation residence in Machiasport that plays with the scale of common cedar siding found throughout Maine, and a residence in the midcoast that uses small tower-like forms in combination with white brick to reference the coast's iconic lighthouses. We're really excited about the inspiration that living and practicing in Maine has provided to these projects and our process, and we're excited to discover many more.